Selle Français, 1997 – 176 cm, Baio
Approvato: SF, SI, SWE, SA, ISH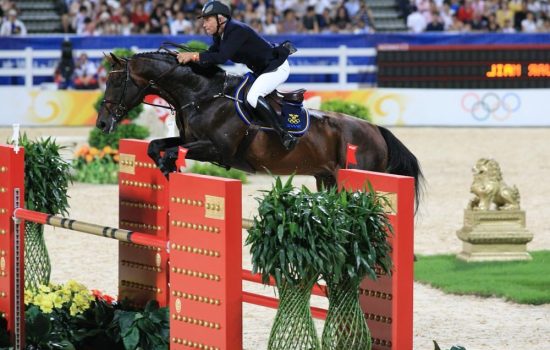 Il padre è il magnifico purosangue Hand in Glove che ha avuto una carriera sportiva fuori dal comune: corse, dressage e Gran Premi di Coppa del Mondo di Salto Ostacoli! Hand in Glove è entrato in riproduzione in Francia nel 1992 ed è stato approvato in 15 paesi producendo vincitori in tutte le discipline: CSO, CCE, CD e corse! La madre Elvira Mail è anche la mamma della formidabile Katchina Mail, vice Campionessa del Mondo nel 2010, 14° Mondiale nel 2008, medaglia d'Argento a Squadre ai WEG di Lexington 2010.
Jaguar Mail è stato finalista a Fontainebleau nei Campionati da 4 a 7 anni e grande saltatore in CSI e CSIO con Patrice Delaveau e Peter Eriksson. Si è piazzato 2° al Campionato Nazionale in Svezia, 5° nel GP CSIO di Hickstead, 7° GP CSIO di Rotterdam, vincitore del Sire of the World 2007, finalista ai Giochi Olimpici di Pechino nel 2008. La sua produzione si mette in luce nelle discipline CSI5* e CCI4*. In CSI – CSIO ad alto livello si ricordano: Westbrook (160), Ramita Mail (160), PM Jumping Lady (160), Velvote des Aubiers (160), Meluha S (160), Mangus Jean Mail (155), Brandee (155), Athina Mail (150), Sire Jag de Courthoe (150), Qandy de l'Ermitage (150). In CCI4*: Tresor Mail, Tenareze, Fischertakinou. Ferrerolus Lat, Colorado Blue (Olimpiadi di Tokyo 2020), Joystick, Box Leo e Vassily de Lassos (Olimpiadi di Tokyo 2020) hanno preso parte anche al Campionato del Mondo 2022 ai Pratoni del Vivaro.
Jaguar Mail è uno stallone di sangue, ha un ottimo carattere, buona bocca, equilibrio,  eccellenti movimenti con uno splendido ed ampio galoppo.